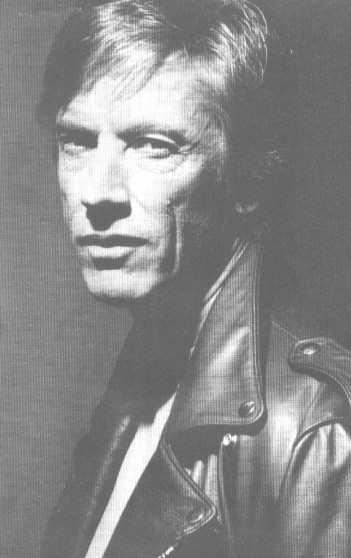 Here's the scoop...
Gone But Not Forgotten is a 4 hour miniseries. Scott plays a serial killer in New York who is arrested but beats the charge on a technicality. When similar killings begin in Sacramento, detectives make the New York connection. Brooke Shields plays the defense lawyer representing Scott's character. In a February 2004 interview with Diane Lane she said, "It was (filmed) for Hallmark Entertainment, but it's so dark and gritty they aren't sure now where it's going to air."
Movietome.com lists two new Scott Glenn projects I haven't heard of before: Murder on the Hudson, a 2004 movie with Charles Durning, and Wanted, a pilot for a new fall 2004 suspense series about the LAPD's fugitive-apprehension team, with Scott as Bill Spence and also starring Jason Gedrick.
Puerto Vallarta Squeeze based on the book by Robert James Waller (Bridges of Madison County) is in post production after filming in Mexico in 2003. The movie is about an American hitman on the run who enlists the help of an expatriate American writer and his Mexican lover to escape through the wilds of Mexico. Also stars Harvey Keitel and the late Jonathan Brandis.
"Homeland Security"- did not make the fall 2003 schedule but the pilot was shown as a tv movie on NBC April 11, 2004 starring Scott Glenn and Tom Skeritt. A CIA agent postpones his retirement after 9/11 to work for Homeland Security.
Received emails from two actors and a fan who've had recent contact with Scott. The first extra wrote that "An extra was driving too close to him in a scene and he totally went off on the guy. He bitched at everybody, "Make sure those damn extras don't get close too me." Today, he was driving a truck, and me and a friend had to pass in front of him. He said "Make sure those extras don't get in front of me, or I'm gonna bump one of them with this truck" I thought that was extremely rude."
Another actor in "A Painted House", writes that he and Scott talked often. On their first meeting, he asked Scott for "permission to relieve bladder," one of Scott's famous lines from "The Right Stuff." He says Scott started laughing, and he has a laugh and smile you can't forget. He says Scott has a great personality and sense of humor. (He illustrated with a story about a banana which I'd better not repeat online!) Scott told him that this was the second year he had missed elk hunting, and that winter is his favorite time of the year. Scott evidently had some trouble driving the tractor in the film, and in one of the scenes he almost creamed some of the extras. In another scene, where Scott is pulling the old truck into the cotton gin, the script called for background action from the extras. But some of the extras kept standing there in the way of the truck. After twelve takes, he says Scott got pretty cranky. He says that Scott is all business on the set, staying in character so much that if one of the extras asked him a question, his answer was based on his character's 1952 perspective! After filming each day, Scott took the time to sign autographs. Between takes, he was "kicking around"; our friend wasn't sure whether it was tai chi or some other form of martial arts. Robert De Niro visited the set on the last day of filming. He wasn't sure if Scott and De Niro are buddies or not, but maybe so since both have homes in the Tri Be Ca section of New York. Scott cooked steak and lobster for the cast when they wrapped up filming. This extra says he has nothing but praise for him. Thanks for sharing !
If you thought you saw Scott in Memphis, you may have. He stayed at the Peabody during filming of "A Painted House", and a fan reports meeting him at Automatic Slims on November 12 -and offers his apology for interrupting Scott's dinner.
Scott Glenn heads Painted House cast www.gomemphis.com/mca/tom_walker/article/0,1426,MCA_515_1471597,00.html
Casting has been set for A Painted House, the Hallmark Hall of Fame adaptation of the John Grisham novel. Filming takes place for the next few weeks in and around Lepanto and Turrell, Ark.
Set in the 1950s during harvest season, A Painted House is seen through the eyes of a boy, Luke Chandler (Logan Lerman), the grandson of cotton farmers. Scott Glenn plays his grandfather, Arija Bareikis plays Luke's mother, and Robert Sean Leonard plays his father.
Thanks to a Scott fan for correcting some info in the bio page:
"The name of the town Scott's family moved to when he was 12 is BRYN ATHYN, PA. Not BRYAN ATHYN. I know because I was born and grew up there, and my brother Mike was best friends with Scott's brother Terry. In fact, his mom and my mom play cards together still. Also, Bryn Athyn is northeast of Philly, not quite nearby Pittsburgh. Hope you find the info useful, "Hometown Boy--
Army Archerd reports: "Scott Glenn and wife, painter Carol Glenn, will host Ellie Weisel at their Ketchum, Idaho, home, April 21 in a $100/head event to fund a campaign by the Jewish community in Idaho to promote tolerance. Glenn, whose heritage is Irish and native American, converted to his wife's Jewish faith when they married decades ago.

Ex-Marine Glenn, no stranger to military roles and upcoming in Miramax's "The Buffalo Soldiers," is also working with the Department of Defense in a campaign to assure national support of service men and women engaged in the war against terrorism. "
Tim Ryan of the Honolulu Star Bulletin reports that the Diamond Head series deal fell through for "various reasons." Scott Glenn and CBS are now in talks for developing it first as a movie of the week and may, depending on its ratings, reconsider it for a series.